Get the "DCTriode" PC app, better than the Web site
Updated installer (June 2022)
I have added 2 files (DLL for establishing SSL connection) as it seems that the application sometimes could not use the necessary stuff on certain Windows configurations.
Current release V1.6 (March 2022)
I maintain an application "DCTriode" running on Windows 32/64, freely available for download: more comfortable, more circuits, more features than the Web version. It allows you to edit and create your own models of triodes, and have them available for the solvers. Of course, a good understanding of the NK modelling with its 5 parameters (µ, X, kG1, kP, kVB) is required. You may refine a tube model before pushing it into Spice, by comfortably drawing its anode curves because model editor and anode curves are floating windows. Built-in models are ECC81-82-83-88.
As simple as the online site to use, it nevertheless comes with a small PDF user manual.
This app is pure freeware, fully functional, without any advertisements, telemetry, spy or intentional virus-like functions. It is an autonomous application (no need for extra software and librairies).
Version released in March includes 3 voltage regulators.
Download it freely now
Download from https://tubes.astefo.com/install/dnld.php . Note that your browser may prevent you to download this MSI file, to "protect" you…
06/2022 - Two DLL included in the installer package (libeay32.dll, ssleay32.dll). No program modification.
03/2022 - release 1.6 - Three new solvers; minor fixes.
02/2022 - minor release 1.5 - Drawing transconductance, internal resistance, amplification factor at 100,200,300V
02/2022 - minor release 1.4 - Minor fixes on anode graphs, cosmetics.
02/2022 - minor release 1.3 - Improvements to anode graphs.
01/2022 - major release 1.2 - Edition of custom triode models.
12/2021 - minor release 1.1 - Anode curves drawn within SOA.
10/2021 - initial release 1.0
Why a Windows app in addition to the Web site ?
For sure one day I will shut down this Web site. Clever guys will have downloaded the PC app before ! On my side, it is also easier to maintain and design when compared to the mix WordPress PHP JavaScript…
18 circuit solvers:
Basic gain stage, cathode bias.
Phase inverter, self bias cathodyne.
Cathode follower, fixed bias.
Gain stage and DC-coupled cathode follower.
Phase inverter, fixed bias cathodyne.
Cascode.
Differential phase inverter, cathode bias.
Cascode SRPP.
Gain stages with direct coupling.
Differential phase inverter, constant current bias.
Dual triode mixer, balanced.
Dual triode mixer, asymmetrical.
Gain stage, constant current bias.
Gain stages with DC level shifting.
Differential phase inverter, long-tailed pair, cathode bias.
2-triode serial voltage regulator.
1-triode basic serial voltage regulator.
1-triode shunt voltage regulator.
The library screen, where you list circuits and access related solvers: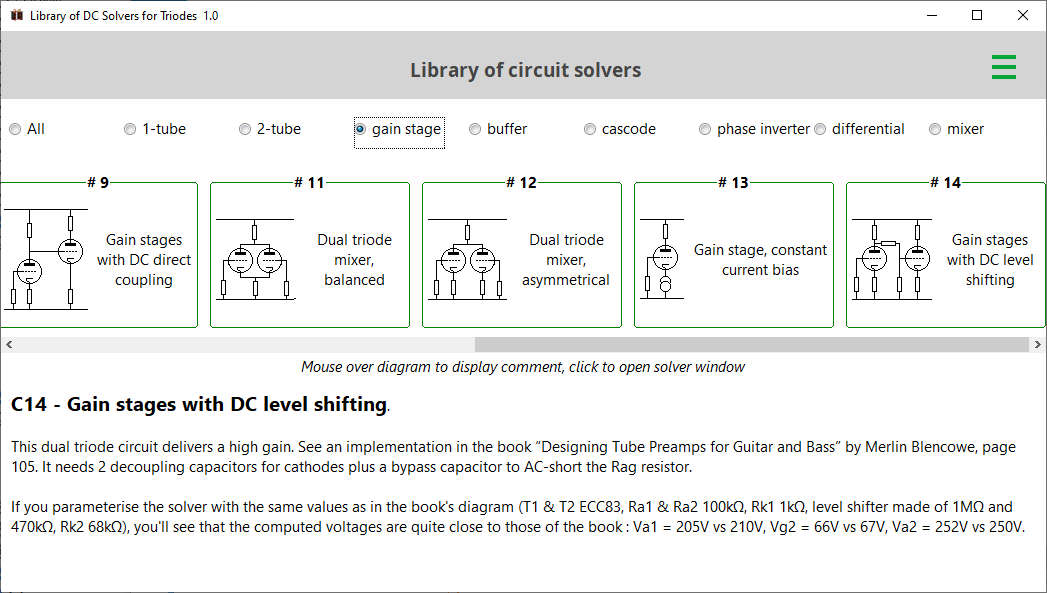 Example of ECC82 long-tailed pair, with a grid differential voltage of -10V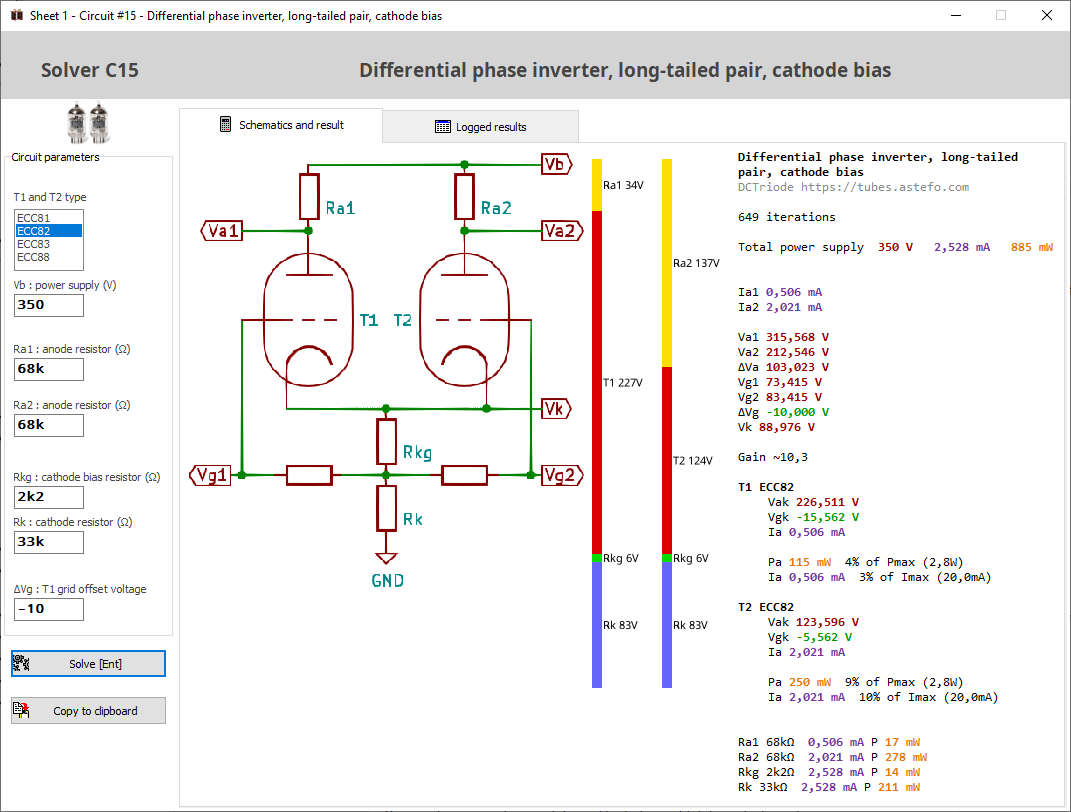 Editing a custom model derived from ECC82…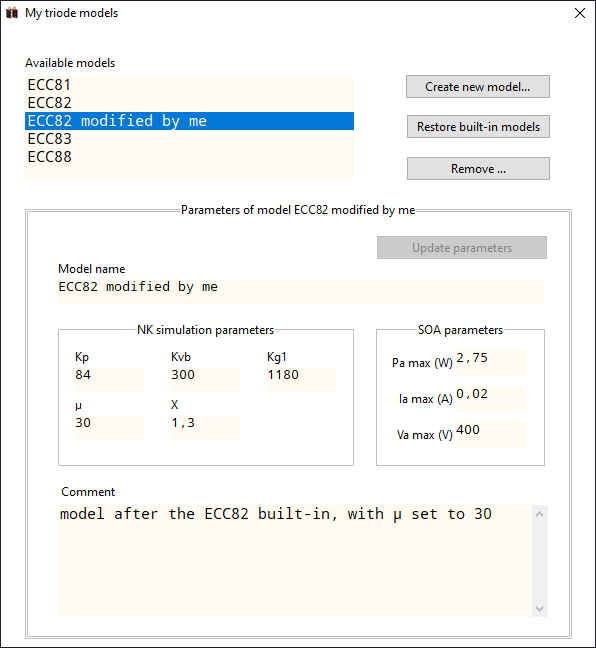 … and displaying its anode curves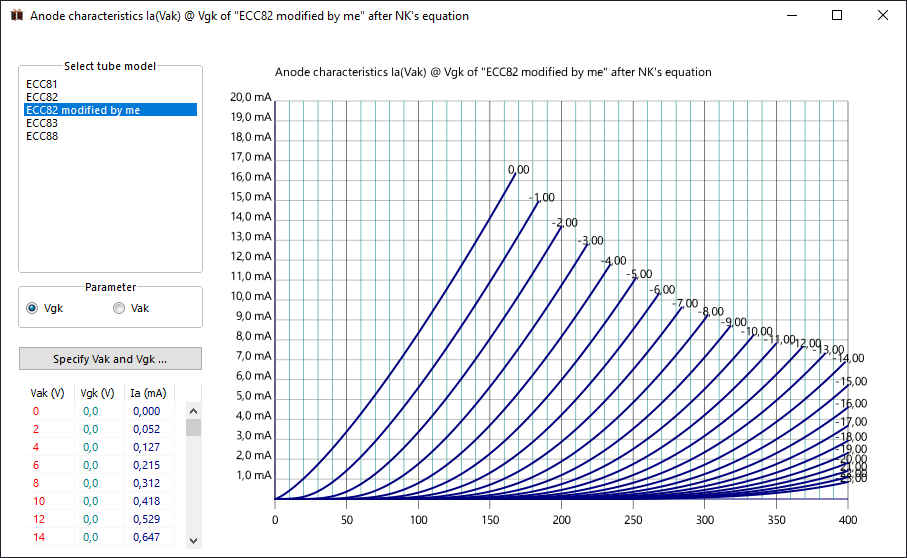 Drawing transconductance, internal resistance and amplification factor of the ECL84 triode section, at 3 different anode voltages: